Retirees these days have more options than ever, in terms of how early they wish to retire, how they wish to spend their time in retirement, and where they want to retire. Many people nearing retirement age are looking for cheap retirement locations, which more and more involves looking overseas. North Americans looking abroad have traditionally looked close to home, whether Mexico, Costa Rica, the Caribbean, or elsewhere in Central and South America. However, Thailand appears frequently in lists of the best retirement countries, and is worth consideration for North Americans and Europeans who don't mind moving a little farther away.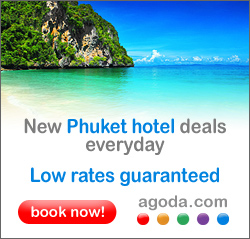 Most expats in Thailand, whether working or retired, live in Bangkok, nearby beach resorts (Pattaya and Hua Hin), beach resorts further south (Phuket, Koh Samui, and elsewhere), and the northern city of Chiang Mai. Bangkok is one of Southeast Asia's biggest cities; it can be hot, crowded, jammed with traffic, and polluted, although conditions have noticeably improved throughout the 2000s. Anything you might want is available in Bangkok, but it's also a city of contrasts; one can quickly walk from a neighborhood resembling southern California to one that is very much of the developing world. It's not for everyone.
Hua Hin, a few hours' drive southwest of Bangkok, and Pattaya, to the southeast, are both expat ghettos with very different vibes. Hua Hin is tidy and relatively compact, although it's growing quickly. Pattaya is home to tens of thousands of foreign residents, and a few million foreign tourists annually. Although fully stocked with any convenience you might require, central Pattaya is an ugly place featuring rampant overdevelopment and an over-the-top sex industry. Neither Hua Hin nor Pattaya has an attractive beach, though both offer plenty of golf.
Wat Phra Singh Chiang Mai,Thailand
Further south, Phuket offers more variety, particularly for sailors and fishermen; many of Phuket's beaches are spectacular, and this large island has a longstanding indigenous culture as well. Koh Samui is perhaps overdeveloped and has little to offer in terms of indigenous culture, but has many lovely beaches; Koh Phangan just to the north is more unspoiled. And, if you miss the winter temperatures back home, Chiang Mai in the north can be cool in the winter, especially in the evenings. Chiang Mai offers an active expat life, with a large number of foreign retirees and workers; the city is filled with beautiful temples and a vibrant arts scene, with mountains and outdoor activities within a short drive.
Koh Samui in Phuket Thailand

There are some stumbling blocks to retiring in Thailand. Foreigners are unable to own land in their own right, though it's perfectly legal to lease land over the long term, or to purchase a condominium. Foreigners on a retirement visa are unable to work or even volunteer, though immigration officials take a common sense view of the issue and often don't interfere with volunteer work that provides useful services to the community, or paid work that is low-profile and that doesn't take paid work away from a Thai. Many Thais speak English, even fluently, and consequently many foreigners live in Thailand for years without bothering to pick up the language, although as always you'll have a much more rewarding experience if you do.
Koh Phangan, Thailand
And the international press is quick to jump on stories about political instability, natural disasters, and other situations that drive tourists away. In reality, such events affect only small parts of the country. Before committing to retirement in Thailand, you should spend several months in the country to ensure that you can adapt to the lifestyle; if you find that it's appealing, you can enjoy an exciting and exotic retirement.
Thailand